---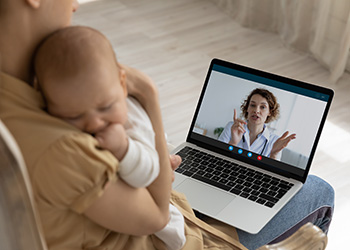 Virtual care enables the direct delivery of care between a patient and a provider—or communication between providers regarding the care of a patient—at distance, using information and communication technologies. Data access has been approved for a research study to produce evidence that supports the best-practice integration of virtual care into the primary care context, and that sets the foundation for a future multi-province mixed methods study that focuses on patient and provider experiences and outcomes from virtual care.
Lindsay Hedden, Assistant Professor in the Faculty of Health Sciences at Simon Fraser University is leading the research team.
The project seeks to identify and describe who is delivering and not delivering virtual care (including in virtual "walk-in" clinics), as well as who is using it and not using it, and for what clinical purposes. It will also describe downstream services use and differential experiences with referrals for testing and specialist care, comparing in-person and virtual visits and examine the implications of virtualization on service volumes and costs at the system level.
"The project is part of a program of research co-developed by knowledge users within an integrated knowledge translation model," says Professor Hedden. "Their feedback was used to shape the study aims and specific research questions we will address. We will establish a project steering committee to include study investigators, policy makers, and patients. The group will guide overall study progress and will ultimately develop a series of recommendations around optimal use of virtual care, remuneration, and governance policies."
To reach front-line providers, the team will leverage relationships with partner organizations and local medical associations to host webinars that share key findings. The project will also produce traditional academic outputs, including academic publications in multi-disciplinary high-impact journals, and presentations at national and international conferences.
For the project, PopData will link four data sets from the BC Ministry of Health with data from the College of Physicians and Surgeons BC, and laboratory data from January 2013 (when fee codes pertaining to virtual visits were included in Medical Services Plan reporting) to present date.