"The BC SUPPORT Unit believes that when patients and the public are included on research teams, they increase the chances that research will have a positive impact on health care." BC SUPPORT Unit

The BC SUPPORT Unit is a multi-partner organization to support, streamline and increase patient-oriented research throughout BC. 
Patient-oriented research is research that engages patients as partners and focuses on patient-identified priorities with the goals of improving patient experiences, health outcomes and the health system.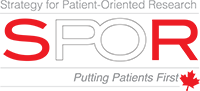 The Unit is one of 10 SUPPORT Units established across the country as part of Canada's Strategy for Patient-Oriented Research (SPOR) led by the Canadian Institutes of Health Research (CIHR). It's also part of the developing BC Academic Health Science Network (BC AHSN) with the network's board providing governance and oversight.
The Unit has two main roles: providing services to researchers, patients, health care providers and health system decision makers, and facilitating initiatives identified as provincial priorities.
Services offered by the Unit include supporting patient engagement, research navigation, data access and use, knowledge translation, and training and capacity development.
---
PopData's role
Data Lead
Working with multiple data partners Population Data BC led the development of the Unit's strategic data plan. The data plan aims to:
Develop shared technical, policy and process standards that comply with BC's regulatory environment, confirm with public/patient expectations about data use, and increase the willingness of data providers to share data
Improve the speed and transparency of research access to data
Enable privacy-senstive primary data collection and use
Foster greater efficiency of quality of data-based research
Support data and services for patient-oriented clinical trials
Enable continuous learning and raise BC's profile as an innovative place to do research
Data services 
BC Data ScoutTM
BC Data ScoutTM is an innovative service allowing researchers to better understand Ministry of Health data and quickly discover whether sufficient data exists to test their ideas. Researchers are able to access highly-aggregated, summary reports.
Designed to provide a fast response (in under a week), BC Data ScoutTM was developed by the BC Ministry of Health in partnership with PopData.
BC was amongst the first jurisdictions to offer this type of service, which respects the privacy and security of the people of BC while offering researchers a competitive advantage.
Streamlining access to health data
The goal of this project was to design and implement an improved, more transparent and more efficient data access model for Ministry of Health and health authority data. Based on the principles of good governance of privacy-sensitive information, it provides clearly understood rules around:
Data access, including eligibility
The request and use process
Obligations of those requesting data
Leading this work are the Ministry of Health and health authorities, in partnership with the BC SUPPORT Unit and PopData.
Access to new data sets and more timely data
In partnership with the Ministry of Health, PopData is working to directly access the HealthIdeas data warehouse. Once this is in operation researchers will be able to access new sources of Ministry of Health administrative data through PopData and existing PopData holdings will be more current. One of the biggest advantages for researchers is access to PharmaNet directly through PopData which reduces the time involved in acquiring this vital and much-used data set.