---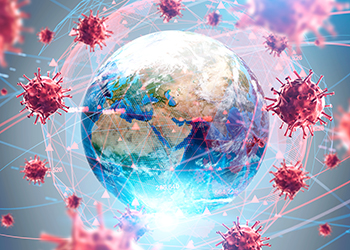 The fight against COVID-19 is far from over, but in tackling this global pandemic, researchers, governments, and health organizations worldwide have made huge strides in sharing knowledge and combining expertise. As noted in a recent article in Science of The Total Environment, it is essential to "face the challenges from an interdisciplinary perspective, with proactive planning, international solidarity and a global perspective."
Bringing big picture thinking and collaboration to the table is a particular strength within the discipline of health geography. Researchers and health professionals working in this field rely on geospatial analytics to support population health efforts, including the study of COVID-19. Using tools such as GIS software and web-based mapping, the dynamic behavior of COVID 19 can be better understood using methods that analyze its patterns in both space and time. Health geography integrates factors from the social, built, and natural environments to characterize the pandemic and its impact on divergent populations and geographies. The knowledge derived from this approach is invaluable for informing policy makers and communities on how to move forward with decisions, planning, and action.
Skills in health geography are critical for anyone interested in quantitative population health roles. The ability to use GIS and apply health mapping tools are key components of the Population Health Data Analysis (PHDA) program. The program, delivered in partnership by the University of Victoria and Population Data BC, offers a four-course certificate which includes two geospatial courses focused on health geography.
One of these courses, Spatial Epidemiology and Outbreak Detection (PHDA 04) is being offered in January 2022. A variety of powerful geospatial techniques for population health topics will be explored, including a specific look at COVID-19.
Learn more about this topic or enrol in our upcoming course.