---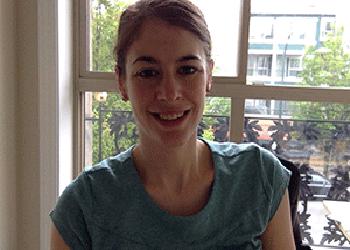 Andrea Jones, a PhD candidate in UBC's School of Population and Public Health has received a two-year Doctoral Research Training Award from WorkSafeBC for a project looking at mental health following return to work after injury. PopData will link BC Ministry of Health, WorkSafeBC, and Pharmacare data for the study.
In Canada, workers' compensation systems play a pivotal role in preventing and reducing disability due to work-related injury and illness. In recent years, claim rates for work-related injury and illness have decreased, however duration of work disability attributable to work-related injury or illness has plateaued or even increased.
"Physical injuries comprise the majority of workers' compensation lost-time claims and are often accompanied by injury related common mental health disorders such as depression or anxiety," says Jones. "Both depression and anxiety are associated with increased pain, and depression is further associated with longer periods of work disability amongst injured workers."
Focusing on musculoskeletal injury claims as the most frequently occurring type of physical injury claim, this research will examine the hypothesis that lack of treatment or intervention for mental health disorders associated with physical injuries, contributes to longer periods of work disability.
Using population data and epidemiological methods, the research aims to:
Identify risk factors for new onset depression and/or anxiety following workplace physical injury
Describe patterns of healthcare utilization by workers who develop mental health disorders following workplace physical injury
Determine if mental health services improve disability outcomes. In particular, utilization patterns (including type, timing, and frequency) most strongly associated with improved return to work will be identified.
Findings will identify best practices for treatment of mental health associated with physical work injury and inform compensation policy and programs aimed at rehabilitation of injured workers and achieving sustainable return to work.
The research is supported through the Partnership for Work Health and Safety, a research collaboration between UBC and WorkSafeBC, a WorkSafeBC PhD Research Training Award and a Canadian Institutes for Health Research Chair in Gender, Work and Health.