---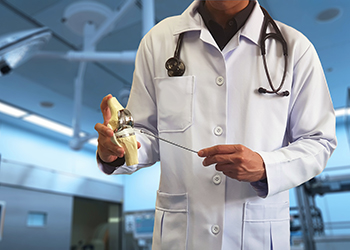 Vancouver General Hospital (VGH) is a tertiary care and referral center for the surgical reconstruction of major joints known as arthroplasty. VGH, along with the University of British Columbia Hospital (UBCH), perform around 1,200 total hip arthroplasties and 1,000 total knee arthroplasties annually. This accounts for approximately 15-20% of the provincial yearly total for these procedures.
Not all patients, however, can follow up with their primary surgeon after their joint replacement. As a result, complications needing revision surgery, or inpatient care, might not reach the primary surgeon's attention, and an opportunity to better understand predictors of readmission and revisions is lost.
Data access has been approved for a study to better understand the predictors of readmissions and revisions of major joint arthroplasty within the Province, by matching Researcher-collected data to administrative data to capture accurate rates. The project is being led by Professor Bassam Masri, Department of Orthopaedics, at the University of British Columbia's Faculty of Medicine.
"A better understanding of the predictors of readmission and revisions of major joint arthroplasty will benefit clinicians in their professional practice of providing care to patients undergoing major joint arthroplasty," says Professor Masri. "The study could benefit the healthcare system overall by potentially reducing the rates of readmission and revisions, thereby reducing costs, and may shorten wait times for arthroplasty if readmission and revision rates are reduced."
It is hoped that patients may also benefit from improved outcomes, reduced complications, and improved quality of life post major joint arthroplasty.