---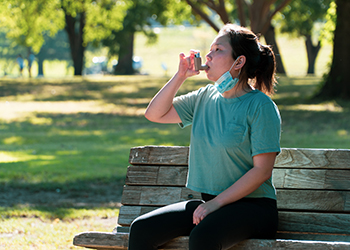 Recently, the burden of chronic obstructive pulmonary disease (COPD) in Canada has increased substantially, and worldwide, COPD is one of the leading causes of hospitalization and mortality. Evidence suggests that patients with an early history or previously diagnosed asthma have a significantly increased risk of developing COPD later in life. However, the role of medication adherence (MA) and other individual factors known to be associated with asthma patients and their subsequent risk for COPD diagnosis is not clear.
To address this knowledge gap, Mr. Michael Asamoah-Boaheng, a PhD Candidate at Memorial University of Newfoundland, is using linked administrative data to investigate the association between factors related to MA levels among asthma patients and the risk of COPD diagnosis later in life. The study is supervised by Dr. William Midodzi (Associate Professor of Medicine), and Dr. Jamie Farrell (Associate Professor of Medicine/Clinician or a Physician team member), all of Memorial University.
This study aims to provide important and novel insight for health care providers, including clinicians, respirologists, policymakers, and patients, to examine risk reduction in patients with asthma who fully adhered to their prescribed medications. It will also serve as a reference for policymakers to consider specific interventions for managing patients with asthma to reduce their risk of COPD diagnosis.
Mr. Asamoah-Boaheng contends that good MA associated with less Beta-2 Agonist use may mediate the association between early asthma and COPD diagnosis in later life. In addition, he believes that properly managed asthma patients with good medication compliance might reduce their risk of developing COPD.
"Identifying the potential mechanisms linking patients with the diagnosis of asthma with poor adherence to medications will help identify risk factors that can be controlled or treated to improve patient care," says Mr. Asamoah-Boaheng. "Also, summaries of the study results and recommendations will be written in plain language, to help patients and the general public who are not doctors and scientists to understand the complex medical information."
The project is supported by the Faculty of Medicine Deans Research Fund, Memorial University of Newfoundland.
PopData will link five data sets from the BC Ministry of Health with data from BC Cancer for the project.