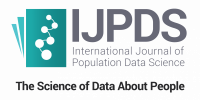 This webinar series aims to highlight the value of data linkage and related data-intensive analytics by profiling some of the most recent International Journal of Population Data Science (IJPDS) publications by national and international Population Data Scientists
Overview
The world of rapidly expanding data has provided many new and challenging opportunities to address a myriad of issues facing human populations. Population Data Scientists see the potential social and individual benefits that can be realized through data-intensive analytics and collaborative work involving data linkage methods. Data linkage allows information on an individual from one data source to be linked to information on the same individual from another data source. Using the linked data makes it possible to gain a more comprehensive understanding than could be obtained from either data source individually.
Linked data used for secondary analysis often involves population-based, longitudinal data that was originally collected for another purpose. Linkage may take place across data sets in a single domain (e.g. health) or across domains (e.g. health, education, environment, and early childhood). This work can provide an unbiased picture of the entire population, is cost-effective, relative to other data collection mechanisms, and enables studies to be done that could not otherwise be performed.
The use of linked data to support better health outcomes exists across many research areas, for example:
Analyzing patient characteristics, treatment costs and outcomes of care to identify the most cost effective healthcare, thereby influencing provider behavior
Applying advanced analytics to patient profiles (e.g., segmentation and predictive modeling) to identify individuals who would benefit from preventative care or lifestyle changes
Disease profiling to identify predictive events and support prevention measures
Research partnerships
International Population Data Linkage Network (IPDLN) facilitates communication and collaboration between research centres that specialize in data linkage and users of linked data. It is also closely aligned with the International Journal of Population Data Science (IJPDS) that publishes emerging research in this growing field.
Who should attend?
The webinar series will benefit researchers, analysts, health professionals and members of the public who are interested in learning more about Population Data Science and how work in this emerging field is making substantive contributions to informing population health-related policies for the betterment of our communities.
Dates/times
The series will usually run on Thursdays, but there may be occasional exceptions.
Time: All sessions will be one hour in duration. Delivery times vary based on the time zone of the presenters' country of origin. Please check each session for specific details.
Delivery: All sessions will be delivered live and online via the Gotowebinar system.
Can't attend the live session? This presentation will be recorded and posted on the PopData's YouTube channel and the International Journal of Population Data Science (IJPDS) website for future reference.
We recommend that you register for the presentations of your choice so we can send you a link to the latest recorded sessions as they are available.