Edinburgh, Scotland
---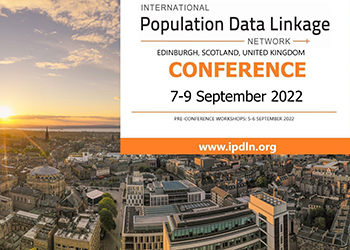 The 2022 International Population Data Linkage Network Conference 2022 will be held in Edinburgh, Scotland on 7-9 September.
Abstracts must address the conference theme, Data linkage-research: informing policy and practice, and one of the sub-themes. This year's sub-themes include:
Data linkage, methods, systems and technology
Research using real-word data
Multi-sector data linkage
Linking data to produce Official Statistics
Ethics, law and social implications
Public engagement and involvement in population data research.
Please visit the IPDLN 2022 Conference website for further instructions, including submissions guidelines and where to submit your abstract.
The deadline for abstract submissions is the 25 March 2022.