---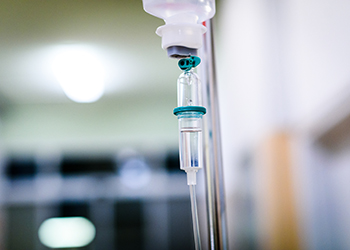 Data access has been granted for a study to evaluate the usage of outpatient intravenous (IV) antibiotic therapy in BC, and to assess the effectiveness of the G33655 fee code in expanding the use of outpatient IV antibiotic therapy.
Dr. John Staples, Clinical Assistant Professor at the University of British Columbia, is leading the project which is funded by Doctors of BC Section of Infectious Diseases.
Serious bacterial infections are a major driver of morbidity, mortality, and healthcare expenditure in Canada. Two or more weeks of intravenous (IV) antibiotic therapy are routinely prescribed for the treatment of certain serious bacterial infections. Traditionally, patients remained in hospital for the full duration of IV antibiotic therapy in order to facilitate IV administration and to monitor patients for complications. As a result, some patients who were otherwise clinically stable and ambulatory remained in hospital for up to 12 weeks.
Outpatient IV antibiotic therapy programs have been developed to facilitate earlier hospital discharge. Some patients in such programs visit an Outpatient Antibiotic Therapy (OPAT) clinic (generally located within a hospital) once or twice daily to receive IV antibiotic infusions under the observation of a nurse. Patients enrolled in Home IV programs receive IV antibiotics via self-administration or with the assistance of a Home and Community Care nurse, either as a continuous infusion or up to twice daily. Several studies show a strong patient preference for outpatient administration of IV antibiotics.
Prior modeling studies suggest that outpatient IV antibiotic therapy is safe, effective, and cost-saving but few studies have used real-world data to examine these issues.
Policymakers in BC sought to expand the use of outpatient IV antibiotic programs in 2012 by introducing a fee-for-service payment to incentivize physicians to supervise outpatient IV antibiotic therapy patients.
"Evaluating the effectiveness and cost-effectiveness of the fee code intervention is essential if we are to develop policies that are both effective and cost-effective," says Dr. Staples. "Such policies might benefit from expansion or application in other jurisdictions, whereas the funding for ineffective policies might be applied elsewhere to better serve the public."
PopData will link nine data sets from the BC Ministry of Health, the BC Vital Statistics Agency and Statistics Canada to facilitate the analysis.