---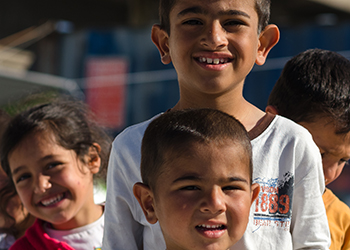 The Canadian component of the first population-based research project focused on the developmental well-being of refugee children in Canada and Australia has received data access approval. The study, funded by the Social Sciences and Humanities Research Council (SSHRC), aims to provide valuable insight into the development of refugee children: who is doing well, in what domains of well-being, and in what contexts.
There are currently over 22.5 million refugees worldwide – and remarkably, over half are children (United Nations High Commissioner for Refugees, 2017). Refugees are distinct from other migrant groups in that they are often fleeing their home countries for the sake of survival, and seeking refuge from extreme conditions such as persecution and war. As a result of these experiences, young refugees are thought to face multiple challenges, including the emotional challenges associated with pre-migration experiences of violence, persecution, and the loss of family; coupled with post-migration struggles, including language and cultural barriers.
Despite these difficult circumstances, a number of studies have found evidence for resilience in refugee children. However, there are many gaps in our understanding of who is resilient, in what ways, and in what contexts.
Monique Gagné, Research Associate at the Human Early Learning Partnership, in the University of British Columbia's School of Population and Public Health, is leading the Canadian study.
"Our project focusses on refugee children who arrive in Canada and Australia before the age of five, and will enable us to better understand their developmental well-being in kindergarten across a range of domains," says Dr. Gagné. "Developing such an understanding is critical for informing how settlement countries around the world can effectively address the well-being of refugee children and meet their needs upon arriving in a new host country and over time."
Dr. Gagné and the Canadian team will be collaborating with colleagues in Australia, who will be answering research questions in parallel in the Australian context. A comparison of the final, aggregated results of both analyses will follow. According to Dr. Gagné the two countries have many similarities: both being key settlement countries for refugee children globally, both having relatively similar socio-demographic profiles, labour markets, and long histories of immigration. "Crucially, both countries have begun collecting the same data on the developmental well-being of children on a large scale, offering a unique opportunity to improve our understanding of the developmental well-being refugee children, within and across two key settlement country contexts," she concludes.
PopData has linked data sets from the BC Ministry of Education, BC Ministry of Health, the Human Early Learning Partnership and Immigration, Refugees and Citizenship Canada for the project.