---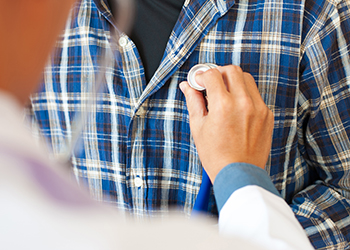 Data access has been approved for a project to determine whether attending the Healthy Heart Program Prevention Clinic (HHPPC), at St. Paul's Hospital in Vancouver, is associated with reduced rates of adverse cardiovascular events, compared to patients who did not attend the clinic.
This project is being undertaken by University of British Columbia (UBC) Division of Endocrinology resident Dr. Pol Darras, as a requirement of his residency training under the supervision of Dr. Gordon Francis, Professor of Medicine at UBC and Director of the HHPPC.
The study hypothesizes that rates of atherosclerotic cardiovascular disease (ASCVD) will be lower among patients with genetically high cholesterol who have attended the HHPPC, relative to those who have not attended the clinic. The project will also assess other factors that may be associated with differences in rates of adverse cardiovascular events, including age, gender, socioeconomic status, medication use patterns, and duration of therapy.
ASCVD is a leading cause of mortality in Canada, and largely manifests as ischemic heart disease, myocardial infarctions (hearts attacks), and cerebrovascular accidents. Dyslipidemia or elevated cholesterol is one of the most important risk factors for ASCVD and has been associated with the greatest odds ratio for heart attacks. The cardiovascular risk associated with elevated cholesterol appears to be linked to an abundance of atherogenic lipoprotein particles in circulation, the most important of which is LDL, which is thought to be mechanistically responsible for endovascular injury.
Dyslipidemia is a common condition, with an estimated prevalence of 2% among Canadians aged 19 to 79. Management of the condition relies on a combination of lifestyle and pharmacological interventions to maintain lipid levels below evidence-based targets. Treatment with statin medications, which effectively lower LDL-cholesterol, has consistently been shown to reduce cardiovascular events and mortality. Unfortunately, despite the clear evidence of benefit from treatment of dyslipidemia, only 24% of those with dyslipidemia report that they use medication, and only 21% reach target lipid levels.
In British Columbia, three major clinics currently provide expert care for the management of dyslipidemia. The HHPPC is one of the largest ASCVD prevention clinics in Canada, with over 5,000 patient visits yearly. The Jim Pattison Lipid Clinic and Victoria Lipid Clinic are smaller, and serve patients in the Fraser Valley and on Vancouver Island, respectively. Referrals to the HHPPC are made for the assessment and management of inherited dyslipidemia, difficult-to-manage dyslipidemia, and personal or family history of premature cardiovascular disease.
"Given the burden of ASCVD in Canada and the prevalence of modifiable risk factors for its development, there is a great need for an adequate assessment of measures taken to address these risk factors in improving Canadians' health," says Dr. Darras. "To our knowledge, this is the first study to examine the impact of attendance at a subspecialty referral clinic for management of dyslipidemia on the rates of clinically important outcomes of cardiovascular events and mortality."
"Should our study demonstrate a significant reduction in adverse cardiovascular outcomes among patients who have attended the HHPPC, it would warrant a renewed effort to ensure that all British Columbians with inherited dyslipidemia can access such a resource."
The study population includes patients with inherited hypercholesterolemia who have attended the HHPPC, and a control cohort of patients who also have inherited hypercholesterolemia who have not attended the clinic. The control group will be derived from a local hospital laboratory database, to provide a similar comparator to patients having attended the clinic.
PopData will link the following data sets from the BC Ministry of Health for the project: the Discharge Abstracts Database; Vital Events and Statistics: Deaths, PharmaNet; and the Central Demographics File.