---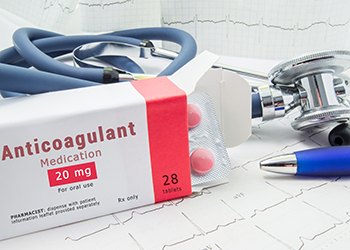 Data access has been approved for a research study to improve our understanding of the risks and benefits associated with direct oral anticoagulant therapy in patients with atrial fibrillation and chronic kidney disease.
The British Columbia component of the project is headed by Dr. Peter Birks, Administrative Fellow in the Division of Nephrology at the University of British Columbia (UBC); and Professor Adeera Levin, Head of UBC's Division of Nephrology and Executive Director of BC Renal.
Historically, the oral anticoagulant drug (DOAC) warfarin, was the primary drug used to reduce embolic stroke risk in atrial fibrillation (AFib) in the general population. However warfarin has inherent limitations, including a narrow therapeutic index (the therapeutic "window" in which blood is adequately "thinned" to prevent stroke, but not too "thinned" to risk a bleeding episode). It is also associated with increased vascular calcification in patients with advanced chronic kidney disease (CKD). These issues, and variability in patient response due to a range of factors, including diet and concomitant medications, necessitates frequent laboratory test monitoring for the duration of therapy.
Other DOACs (e.g. apixaban, dabigatran and rivaroxaban), which have been available in Australia, Canada and other countries since early 2009, are now the primary DOACs used in the general population. These have several advantages over warfarin, including relatively stable pharmacokinetics, which removes the need for regular monitoring and dose adjustment. However, evidence of the safety and efficacy of these DOACs in patients with CKD is lacking.
"As more physicians are prescribing DOACs to patients with chronic kidney disease (CKD), we need to know the benefits and risks in order to optimize safety and effectiveness of AFib management in patients with CKD," says Dr. Peter Birks.
The research team believe that a critical gap in evidence has contributed to the ongoing clinical uncertainty regarding DOAC use in CKD patients, and that there is evidence to show that more patients on dialysis are started on DOACs despite the contraindications for their use in this group. DOAC use in this group has been associated with higher risks of bleeding and death compared with warfarin. "Clinical guidelines, such as the Kidney Disease Improving Global Outcomes, provide limited guidance on the specific use of DOACs for stroke prevention in CKD patients while major regulatory agencies (e.g. Therapeutic Goods Administration) have provided recommendations based on an outdated method of kidney function estimation," says Dr. Birks.
The study will investigate patterns of DOAC use (overall and by agent) according to levels of kidney function in adults with AF and look at whether the association between DOAC therapy (compared with warfarin) and the risk of ischaemic stroke, transient ischaemic attack or death is modified by kidney function in adults with AF. The team will also investigate whether the association between DOAC therapy (compared with warfarin) and the risk of major bleeding (safety) is modified by kidney function in adults with AF.
For the project, PopData will link six data sets from the BC Ministry of Health with the Patient Records and Outcomes Management Information System (PROMIS) at the BCPRA - a comprehensive provincial database of patients with CKD, and who receive a kidney transplant.