---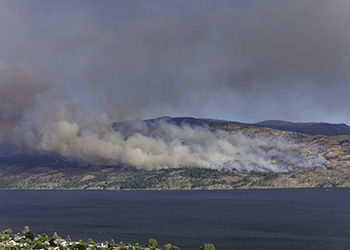 Projections indicate that the frequency and severity of wildfires will increase in the future due to global climate change. Aside from the immediate threat to life and property, wildfires emit massive amounts of smoke containing a complex mixture of pollutants harmful to human health.
While the health effects of wildfire smoke exposure are well documented in adult populations, there are very few studies, none conducted in Canada, on the effects of in utero and neonatal wildfire smoke exposure on birth outcomes and health in early life. Sarah Henderson, scientific director of environmental health at the BC Centre for Disease Control (BCCDC) and an associate professor in the University of British Columbia's School of Population and Public Health, is leading a research project to investigate this issue. The study is funded by the Canadian Institutes of Health Research (CIHR).
"In 2017 and 2018, British Columbia suffered its worst wildfire seasons in history," says Professor Henderson. "These recent episodes of high exposure provide a unique opportunity to use linked administrative health data to examine the effect of the two extreme wildfire seasons compared to more typical exposures in 2016 and 2019."
Study participants are all infants who were in utero or in the neonatal period (birth to 28 days) during the study period in British Columbia. "We hypothesise that those who were exposed to wildfire smoke during pregnancy were at increased risk of adverse birth outcomes compared with those who were less exposed and that that in utero exposure to wildfire smoke is associated with increased risks of other adverse outcomes in the first year of life," says Professor Henderson. The project will also look at whether neonates exposed to wildfire smoke have increased risks of adverse health outcomes in the first year of life.
A section of CIHR funding for this project is dedicated to knowledge translation efforts. Fact sheets written for the general public and health care professionals will be created and shared through social media, provincial health care partners, academic and professional conferences, and through the SmartMom text messaging service (www.smartmomcanada.ca).
PopData will link four data sets from the BC Ministry of Health with data from the BC Perinatal Data Registry for the project.