---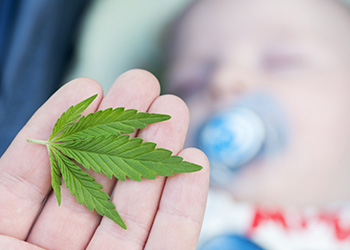 The increased availability of cannabis, as a result of legalization, may have significant impacts on the prevalence and pattern of cannabis use in the obstetrical population. In the United States, the legalization of cannabis in certain jurisdictions has been shown to reduce perceptions of harm and play a role in decision-making on whether or not to use cannabis in pregnancy. Importantly, some cannabis retailers are marketing cannabis use as a solution for first-trimester nausea.
"Exposure to cannabis in utero and early life may be associated with neurodevelopmental impairment in children, although robust population-level data are lacking," according to Daniel Corsi of the Children's Hospital of Eastern Ontario Research Institute. Dr. Corsi is leading a pan-Canadian research project to develop a greater understanding of the impact of perinatal cannabis use on the health of mothers, neonates, and the longer-term neurodevelopmental trajectories of exposed children in Canadian society.
"Existing evidence comes from small cohorts that show mixed effects on children's attention, hyperactivity and concentration. Confirmation of these findings using larger cohorts and appropriate methods to control for confounding factors is required," says Dr. Corsi.
The project's goal is to determine the risk of in utero cannabis exposure on neurodevelopment by assembling a multi-provincial population-based cohort of children born to mothers who used cannabis in pregnancy with matched, unexposed controls. Specific objectives include determining the association between prenatal cannabis and neurodevelopmental vulnerability among school-aged children; and evaluating the impact of child sex and preterm birth on the cannabis-neurodevelopment association. The study will also assess and compare differences in the effects of prenatal cannabis on neurodevelopmental outcomes across Canadian provinces and conduct a combined analysis using summary-level estimates from three provinces.
The project is funded by a Canadian Institutes of Health Research (CIHR) team grant and is closely aligned with the CIHR's strategic plan to study drug exposure and healthy pregnancy.
The project involves data from the perinatal registries of British Columbia, Ontario and Nova Scotia. It is one of the first projects to use Health Data Research Network Canada's newly developed Data Access Support Hub (DASH), designed to streamline and expedite pan-Canadian, multi-jurisdictional research.
"The outputs of this work will generate robust estimations of the risk associated with perinatal cannabis use and subsequent neurodevelopmental outcomes. In addition, the project's analytical framework and methods developed within this project will provide data and analytical infrastructure for future studies on substance use in pregnancy and longer-term child health outcomes," concludes Dr. Corsi.
For the project, PopData will link four data sets from the BC Ministry of Health with data from Perinatal Services BC and Early Development Instrument data from the Human Early Learning Partnership.