---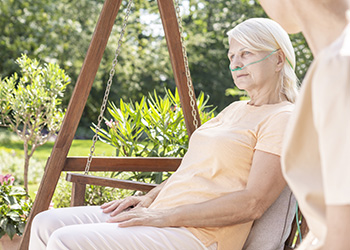 Accessible end-of-life care across the healthcare system can be provided in a variety of ways, including through the use of virtual care and home care, which are important elements of out-of-hospital care.
Data access has been approved for a project containing two sub-studies, which are part of a larger research program examining out-of-hospital end-of-life care at the provincial and national level. Results will be shared with key policy decision-makers, who have already voiced an interest in using the outcomes of this work to inform and improve future models of virtual end-of-life care in the post-pandemic era.
Sub-study 1 is co-led by Dr. Kieran Quinn, Assistant Professor and Clinician Scientist in the Department of Medicine at the University of Toronto and Dr. Aynharan Sinnarajah, Assistant Professor and the Dr. Gillian Gilchrist Chair in Palliative Care Research at Queen's University and Lakeridge Health. The objectives of their study are to 1) measure interprovincial variation in the use and timing of virtual palliative care initiation across all healthcare settings and identify differences in sociodemographic and clinical characteristics of adults in their last 90 days of life before and after the introduction of specialized virtual fee codes; and 2) measure the association of acute healthcare use (emergency department, hospital admission) with the use of virtual care in the last 90 days of life before and after the introduction of specialized virtual fee codes. This is a national-level study, analyzing the same information in Alberta, British Columbia, Newfoundland and Labrador, and Ontario. Data will be analyzed to study outcomes within and between provinces. The virtual palliative care study is funded by the Canadian Institutes for Health Research (CIHR).
Sub-study 2 is led by Dr. Jessica Simon, Professor in the Department of Oncology at the University of Calgary. The objectives of the study are to identify the effects of COVID-19 on home-based palliative care and its impact on health service resource utilization during the pandemic.
Provincial public health restrictions as a result of COVID-19 impacted the delivery of home-based palliative care. It resulted in a reduction of home visitations due to healthcare provider shortages, need for infection control, limited therapeutic presence and communication effectiveness due to physical distancing, and lack of personal protective equipment. In addition, symptom control could have been impacted by the lack of physical examinations (physical appointments replaced by virtual ones), or caused delayed access to medical equipment, medical procedures, and medication availability.
"By investigating how home care activities have changed in the study period, we aim to understand how to best manage the palliative care needs of the people who continue to live and die at home, and assess whether adaptations such as virtual care can mitigate some of the challenges posed by the COVID-19 pandemic." "Virtual palliative care has the potential to improve health outcomes and increase equitable access to the best possible end-of-life care when and where patients need it," says Dr. Quinn.
For the studies, PopData will link seven data sets from the BC Ministry of Health with Palliative Home Care Data from Fraser Health Authority. The project used Health Data Research Network Canada's (HDRN's) Data Access Support Hub (DASH), designed to streamline and expedite pan-Canadian, multi-jurisdictional research.