---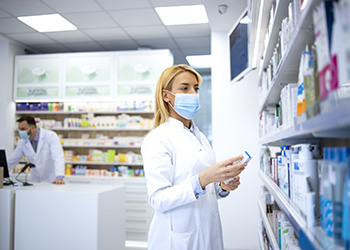 Data access has been approved for a project exploring whether, and if so how, the prescription pattern of family physicians in British Columbia (BC) changed during the course of the COVID-19 pandemic when compared to pre-pandemic trends.
The study, funded by a Rural Physician Research Grant from the Rural Coordination Centre of BC, is being carried out by Malgorzata Kaminska, Assistant Professor, Northern Medical Program, at the University of Northern British Columbia.
"The project's results will enable BC's primary care providers and decision makers to understand the prescription patterns of family physicians in BC before, during, and in the aftermath of the COVID-19 pandemic," says Professor Kaminska. "This data will be useful in the further development of virtual care to ensure that "the right care" is provided regardless of the way a patient is seen by a family physician."
The study seeks to identify and compare the prescription trends of common primary care medications prescribed by BC family physicians during three time periods: pre-pandemic, during the pre-vaccine time of the COVID- 19 pandemic, and during the time following the broad availability of COVID-19 vaccines. For each class of medications and medication within the class, monthly prescription rates per 1,000 population will be calculated, along with relative percent change for similar months over the four time periods studied.
The research will also determine if, and if so how, the prescription patterns may have changed following the introduction of virtual billing codes in BC, and characterize the evolution of prescription patterns during any of the three time periods studied. A secondary analysis will seek to highlight possible differences between sub-groups, such as examining the rural-urban differences based on postal codes of patients and physicians, years in practice and location of training of physicians, etc.
The results of this project will be shared widely with the BC primary care community via publication of results targeted at the Canadian Family Physician, Canadian Journal of Rural Medicine, and the British Columbia Medical Journal. The results will also be shared via executive summaries with the Doctors of BC and the British Columbia College of Family Physicians. Internationally, the results will be presented at the North American Primary Care Research Group (NAPCRG) annual conference, while also being shared at national and provincial conferences, especially those attended by rural physicians (e.g., Society of Rural Physicians of Canada annual retreat, Northern BC Research and Quality Conference, BC Rural Health Research Exchange, etc.).
PopData will link data sets from the BC Ministry of Health with data from the College of Physicians and Surgeons of BC for the project.