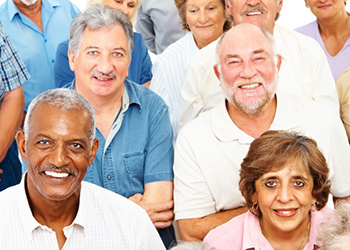 The issue
More than 9 million Canadians live with diabetes or prediabetes. They suffer a diminished quality of life and the likelihood of complications like heart disease, stroke, kidney disease, blindness, amputation and death.
Advancing age and obesity prevalence contribute to the diabetes rate in Canada, but another factor under consideration is the escalation of a non-white population at a higher risk for diabetes.
Dr. Nadia Khan at the University of British Columbia noticed a dearth of information about the incidence and prognosis of diabetes amongst Canadian ethnic groups. She worked with a multi-university team of researchers to determine the incidence of diabetes and risk of death or complications among South Asian, Chinese and Caucasian patients with newly diagnosed diabetes.
The results of this research have the potential to customize health services to those who are at a significantly higher risk in our culturally diverse community and reduce the extent of the diabetes epidemic in Canada.
Data sources linked
Consolidation file (BC Ministry of Health)
Medical Services Plan (BC Ministry of Health)
PharmaCare (BC Ministry of Health)
Hospital Separations (BC Ministry of Health)
Deaths (BC Vital Statistics Agency)
PharmaNet
Blue Cross (Alberta)
What did we learn?
Across all three groups, diabetes incidence was higher for men than women.
South Asians had the highest incidence of diabetes and these patients were younger than Chinese and Caucasian patients at diagnoses. Still, their mortality rates were lower than Caucasian men and women.
Caucasian patients were more likely to have cardiovascular disease and cancer than the other ethnic groups.
Chinese patients had the lowest incidence of diabetes and significantly lower mortality rates than Caucasian patients.
Diabetes incidence for Caucasian patients and Chinese men increased during the study period but was stable for South Asian patients and Chinese women.
Caucasian men and women showed a higher mortality rate across different age groups, both provinces, and the presence or absence of comorbid conditions
Macrovascular complications varied by sex. South Asian and Caucasian men and women had a similar risk of developing macrovascular complications. However, Chinese men and women had a substantially lower risk of AMI and heart failure
---
"I think this data is important because it tells us that ethnicity impacts the occurrence and prognosis of disease. Also, South Asian and Chinese populations are distinct in how diabetes affects these groups.

Finally, there are likely protective and adverse factors within these ethnic groups that account for differences in disease occurrence and prognosis and these factors need to be investigated."
Nadia Khan, MD, MSc, FRCP
---
Making a difference
This study confirmed an alarmingly high incidence of diabetes in South Asian patients, particularly men aged 35 to 44 years, indicating that screening as early as 35 years may be warranted. Timely and culturally sensitive interventions could control the incidence of this epidemic.
The findings also suggest that Chinese patients do not necessarily share with other Asians an early proclivity for developing diabetes.
The paradoxical finding that South Asians had a high diabetes incidence but low mortality calls for further studies to clarify the underlying mechanisms of risk and outcome differences.
Future questions include:

Which lifestyle choices and patterns protect certain ethnic groups more than others?
Might language differences be an issue that prevents a certain ethnic group from understanding and interpreting a physician's instructions?
If one group is faring better with a particular disease, can other groups learn from this?